ANTIQUE CANNABIS BOOK
HISTORICAL
CANNABIS MEDICINES
The 3rd Edition of "The Antique Cannabis Book" -- Last Update; Dec 2013
---
HARVEY'S TOLU & CODEINE COMPOUND
---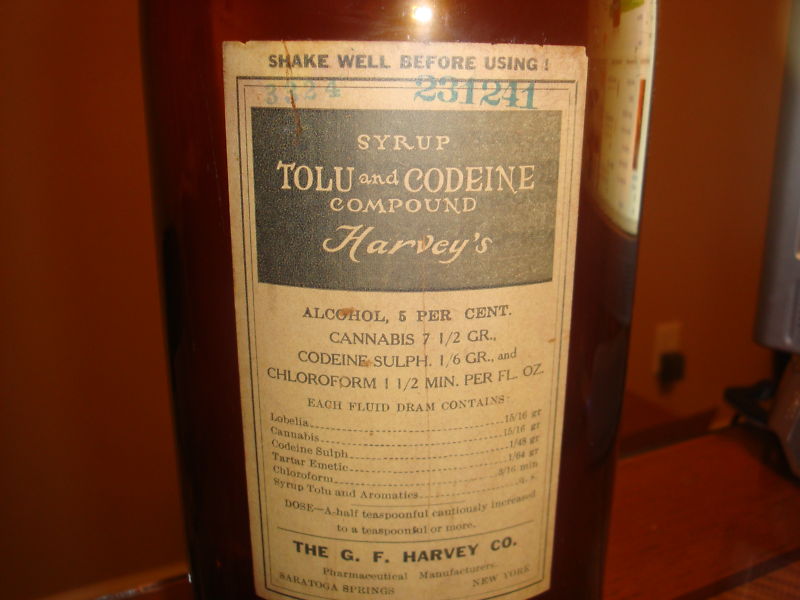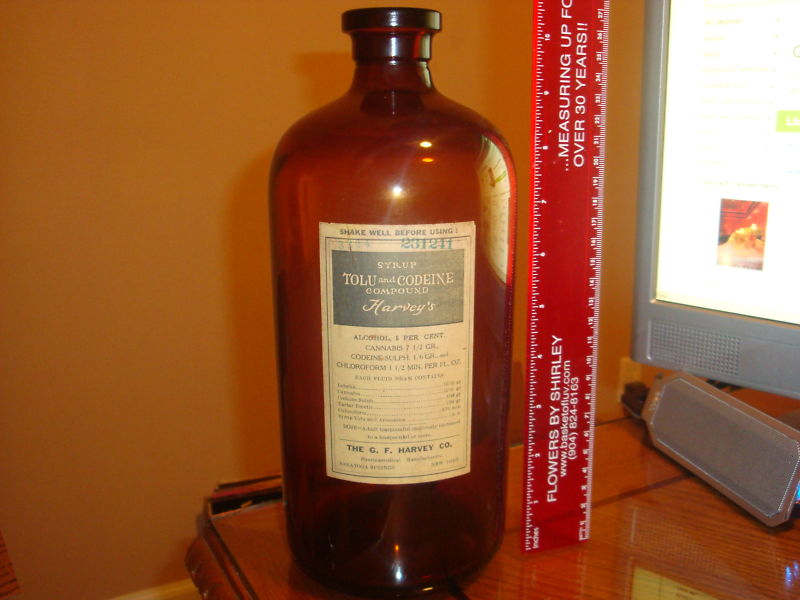 HARVEY'S TOLU & CODEINE COMPOUND
As per an Internet auctioneers write-up:

ANTIQUE LARGE HARVEYs PHARMACY CANNABIS MEDICINE BOTTLE
I AM NOT AN EXPERT ON THIS TYPE OF COLLECTIBLE,SO ANY QUESTIONS PLEASE ASK..I WILL DISCRIBE BOTTLES AS BEST AS I CAN....

UP FOR AUCTION IS A LARGE OLD ANTIQUE HARVEY'S SYRUP TOLU AND CODEINE COMPOUND WHICH ALSO CONTAINS CANNABIS AS YOU CAN SEE ON LABEL ,NICE FULL LABEL,VERY OLD BOTTLE IN GREAT CONDITION....FROM THE G.F. HARVEY CO. SARATOGA SPRINGS NEW YORK...A PIECE OF ORIGINAL CORK IS INSIDE THE BOTTLE...BOTTLE HAS NEVER BEEN CLEANED ON THE INSIDE...

VERY RARE CANNABIS ITEM.......DATES FROM ABOUT THE 1930's/ 1940's,,,BUT I AM NOT SURE..

THIS BOTTLE IS NOT FOR CONSUMPTION AND IS ONLY FOR COLLECTING DISPLAY VALUE....I HAVE NO DATE FOR THIS OLD BOTTLE,GREAT FOR SOMEONES DISPLAY CASE...

MUSEUM COMMENT
We've checked with our Old Pharmaceutical Price and Product catalogs and such a medicine was indeed made by the G.F. HARVEY Co., and the ingredients as stated were standard ingredients in use at the time However, due to the size of the bottle one must assume that it was meant for farm animals; --- not human use. The fact that the bottle is a corker would indicate that it manufactured in the early 1910's or there about.



---
WANT TO KNOW MORE:
=====================
Due to space / download time considerations, only selected materials are displayed.   If you would like to obtain more information, feel free to contact the museum.   All our material is available (at cost) on CD-Rom format.  
CONTACT PAGE


---
---
---