ANTIQUE CANNABIS BOOK
HISTORICAL
CANNABIS MEDICINES
The 3rd Edition of "The Antique Cannabis Book" -- Last Update; Dec 2013
---
MACALISTER'S COUGH MIXTURE
---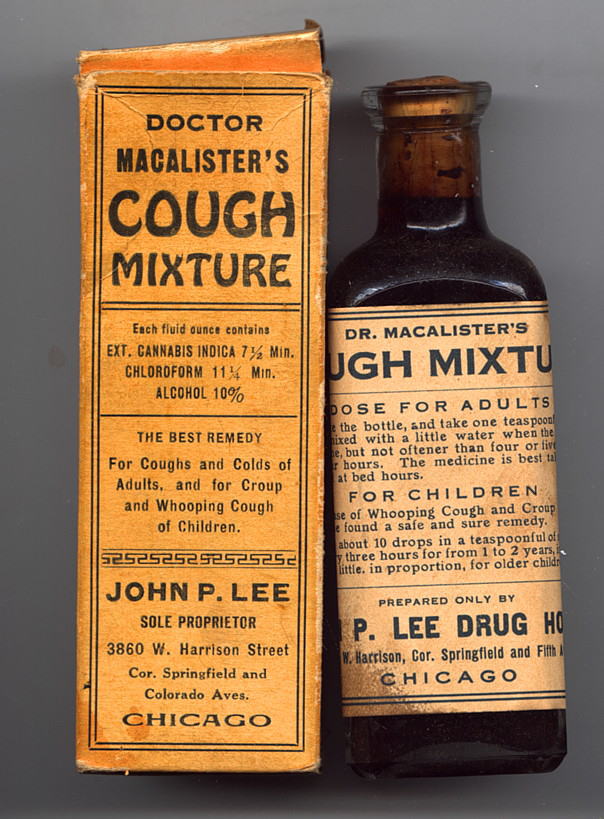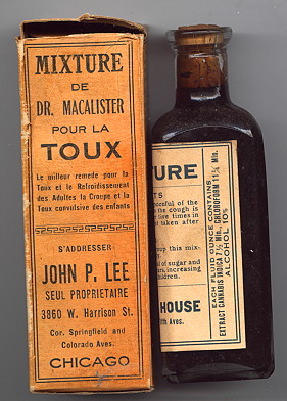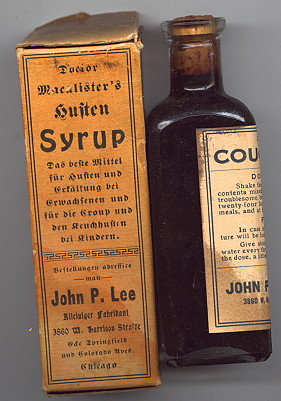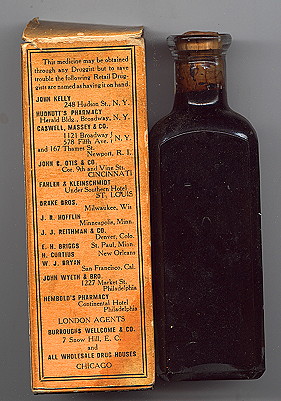 MACALISTER'S COUGH MIXTURE
As per an Internet auctioneers write up:
"DR MACALISTER'S COUGH MIXTURE" Note; wording taken directly from an auctioneers sales write-up, opinions expressed are those of the auctioneers: Patent Medicine Cannabis MINT 4 3/4" tall by John P. Lee Drug House, a Chicago based Medicine Co on W. Harrison & Springfield & 5th Ave. in a classic patent medicine square cathedral sided and dog-eared cornered bottle with the original label also in mint condition with claims that it would fix whooping cough, croup, colds, coughs...especially before bedtime with a teaspoon of sugar for kids!! Think of all the people who were fooled by this one. Probably one of the items that spurned the 1906 food and drug act...Clearly early stuff here...AND ON TOP OF IT ALL, IT IS STILL FULL FROM OVER 100 YEARS AGO, ORIGINAL CORK AND THE VICTORIAN BOX IN GREAT CONDITION. Ingredients like chloroform and cannabus indica, now controlled substance s/ narcotic that would make one FEEL better. are in this one(but those are the only ingredients that are listed in this item WITH ALCOHOL!) a classic patent medicine...not a pharmacist compounding bottle. It came from an old apothecary drug store form Chicago. (era unknown)

MUSEUM COMMENT
The auctioneer has a right to his/her opinion, but to set the record straight, while this formula is not recommended in todays world, STILL back then this was the best they had. AND IT DID WORK. But again (with the exception of the Cannabis) some of the other ingredients (like alcohol) do sound a bit dangerous.



---
WANT TO KNOW MORE:
=====================
Due to space / download time considerations, only selected materials are displayed.   If you would like to obtain more information, feel free to contact the museum.   All our material is available (at cost) on CD-Rom format.  
CONTACT PAGE


---
---
---