ANTIQUE CANNABIS BOOK
HISTORICAL
CANNABIS MEDICINES
The 3rd Edition of "The Antique Cannabis Book" -- Last Update; Dec 2013
---
PISO'S CURE
---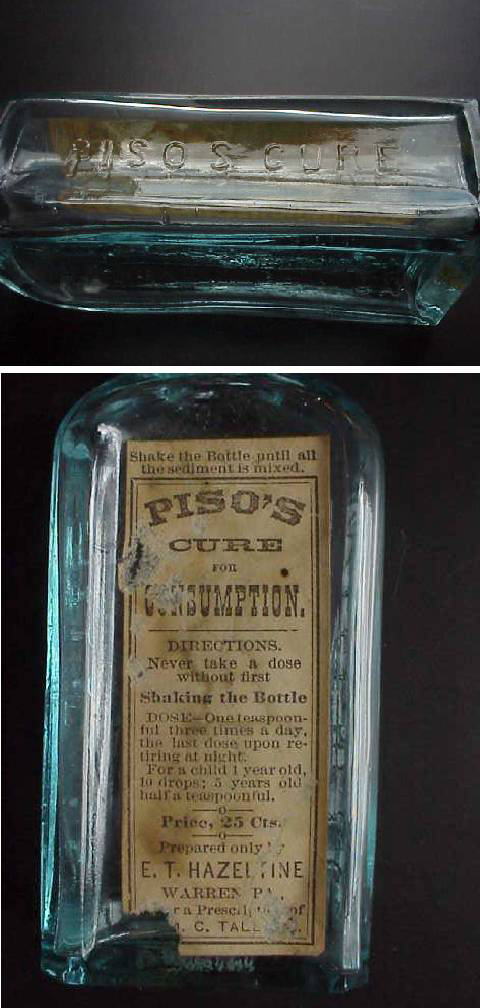 "Piso's Cure for Consumption" - In reality (note the ingredients) Piso's was nothing more than a cough syrup. However, its very name made it a quick target of the pure food and drug act of 1906. Note how it quickly changed it's name after the passage of the act.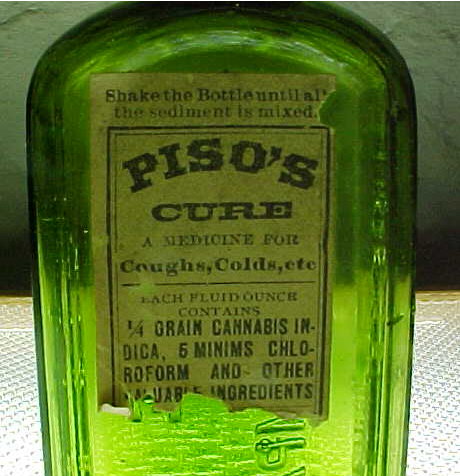 Piso's Cure -- same ingredients as "Piso's Cure for Consumption," See section on Quacks or the museums upcoming book on "Antique Cannabis Medicines" for more info.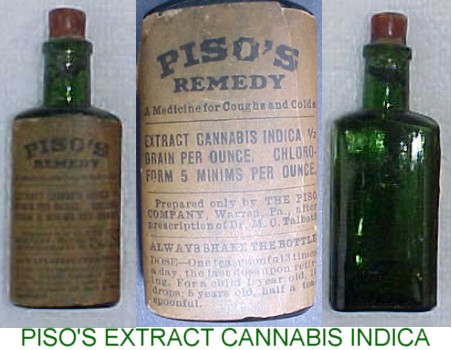 "Piso's Remedy" Mfg. by Hazeltine & Co. GREEN CANNABIS INDICA BLOWN LABELED BOTTLE Cute, unembossed rectangular mold blown glass bottle with label which reads "Piso's Remedy a Medicine for Coughs and Colds Extract Cannabis Indica 1/2 Grain Per Ounce...Warren PA. Dr. M.C. Talbott's". The bottle is empty and therefore contains no narcotics or controlled substances. Height 2 3/4";


PISO'S CURE
Piso's Cure, (AKA -- Piso's Cure for consumption and Piso's Remedy) manufactured by the Hazeltine Co. (AKA Piso's Co.) of Warren PA. Although the name may be a little misleading, Piso's was essentially a pretty good cough and cold syrup. Note, that the bottle is embossed on all sides, so even with the label gone (which is usually the case) Piso's is still easily identifiable.

See Chapter 15 on Quack Medicines, this book.



---
WANT TO KNOW MORE:
=====================
Due to space / download time considerations, only selected materials are displayed.   If you would like to obtain more information, feel free to contact the museum.   All our material is available (at cost) on CD-Rom format.  
CONTACT PAGE


---
---
---