THE ANTIQUE CANNABIS BOOK
Chapter 14 - (2nd Edition)
VETERINARY REMEDIES
THE DUNLAP MEDICINE Co.: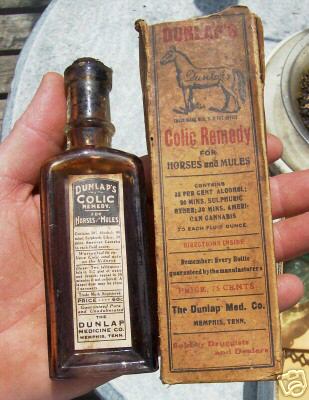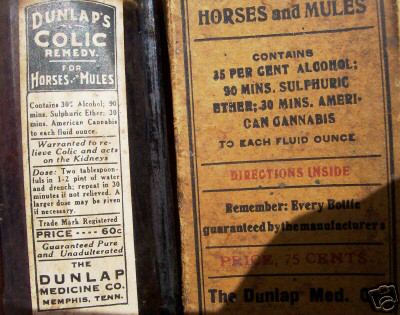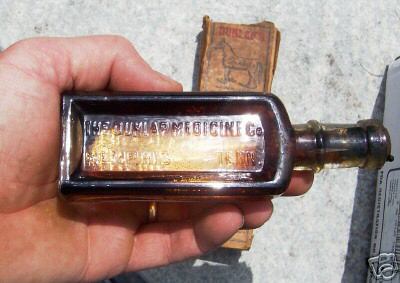 THE DUNLAP MEDICINE CO.



THE DUNLAP MEDICINE CO.
Here's a museum quality AMERICAN CANNABIS or MARIJUANA bottle that is hand blown and 110 years old! The bottle is embossed THE DUNLAP MEDICINE CO. MEMPHIS, TENN. (on sunken panel) The other side has the full original label DUNLAP'S COLIC REMEDY FOR HORSES and MULES Contains 30% Alcohol 90 mins Sulphuric Ether 30 mins AMERICAN CANNABIS to each fluid ounce. Warranted to Relieve Colic and Acts on the Kidneys Price 60 cents The Dunlap Medicine Co. Memphis, Tenn. The bottle is Hand Blown.....hand tooled cork top collar with original cork....clear....rect....5 1/2"tall....Excellent Mint Condition with no chips, cracks or damage of any kind. The box has a picture of a horse and reads DUNLAP'S COLIC REMEDY for Horses and Mules....and states the ingredients again, which includes AMERICAN CANNABIS...One side of box states that "NOTHING BUT THE BEST DRUGS ARE USED IN IT'S MANUFACTURE" ..the back has all the other medicines sold by the Dunlap Medicine Co., etc. Box has the lid missing and a large hole near bottom of one side. This bottle dates from the 1890's before it was required to list ingredients after 1906. It is a very rare bottle....the first one I've ever seen! If you collect narcotic or cannabis bottles, this one is a MUST HAVE since it has the unusual words "AMERICAN CANNABIS" on both, the bottle and box.


---
WANT TO KNOW MORE:
=====================
Due to space / download time considerations, only selected materials are displayed. If you would like to obtain more information, feel free to contact the museum. All our material is available (at cost) on CD-Rom format.
CONTACT PAGE





---
---