THE ANTIQUE CANNABIS BOOK
Chapter 14 - (2nd Edition)
VETERINARY REMEDIES
SNOW'S VETERINARY: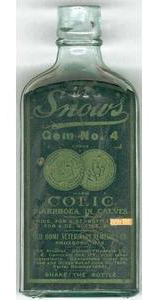 SNOW'S VETERINARY
SNOW'S VETERINARY COLIC BOTTLE - Very rare company to obtain an example. Old Home veterinary remedy company of KNOWBORO, NY. this is Snow's Gem #4 for colic in horses and diarrhea in cows. Snow was the owner of the company. Bottle has applied lip and label has 1907 Pure Food and drug Act designation. Original contents once contained, according to label, chloral hydrate and cannabis 11%. 6 1/4"x 2 3/4". For the veterinarian interested in veterinary medicine and early cure cow & horse treatment. Also of interest for the farmer, dairy and horseman or controlled substance collector.



---

WANT TO KNOW MORE:
=====================
Due to space / download time considerations, only selected materials are displayed. If you would like to obtain more information, feel free to contact the museum. All our material is available (at cost) on CD-Rom format.
CONTACT PAGE


---
---