THE ANTIQUE CANNABIS BOOK
Chapter 14 - (2nd Edition)
VETERINARY REMEDIES
MANSFIELD'S MAGIC COLIC REMEDY: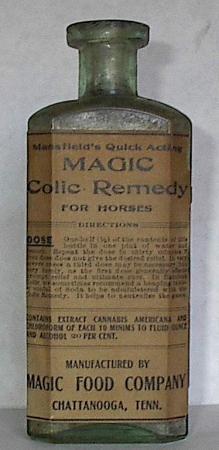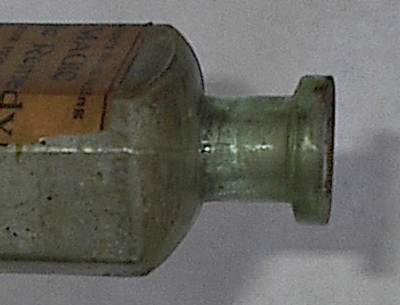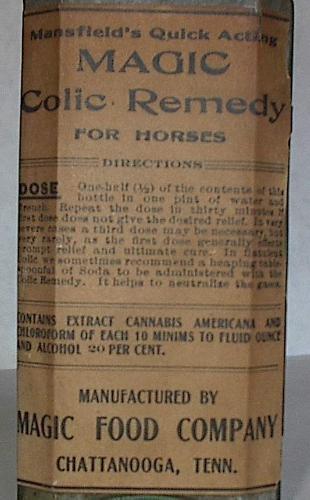 THE MAGIC FOOD COMPANY
MANSFIELD'S MAGIC COLIC REMEDY.
, , , , , - MANSFIELD'S MAGIC COLIC REMEDY - This is a neat old bottle. It was probably made in the late 1800's or early 1900's. The top is applied with the seams stopping just above the shoulder. The light green glass is wavy and there are bubbles and imperfections in the glass. The bottle is about 5-3/4" tall, 2-1/4" wide and 1-1/2" thick. The corners are beveled or chamfered. On the label is "MANSFIELD'S QUICK ACTING - MAGIC - COLIC REMEDY - FOR HORSES" and the directions. Also on the label is "CONTAINS EXTRACT CANNABIS AMERICANA AND CHLOROFORM OF EACH 10 MINIMS TO FLUID OUNCE AND ALCOHOL 20 PER CENT". Below that is "Manufactured by - MAGIC FOOD COMPANY - CHATTANOOGA, TENN." Embossed on the recessed bottom is a diamond with what appears to be a "C" or a "G" inside. The diamond is double struck. This bottle is in near mint shape with no chips or cracks but it is dirty. The label is in great shape but has turned brown with age and it has a little wear.


---

WANT TO KNOW MORE:
=====================
Due to space / download time considerations, only selected materials are displayed. If you would like to obtain more information, feel free to contact the museum. All our material is available (at cost) on CD-Rom format.
CONTACT PAGE


---
---