Chapter 24

CANNABIS
DOCTORS BAGS & TRAVEL KITS

---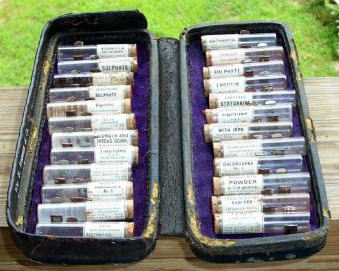 24.0 - DOCTORS BAGS & TRAVEL KITS:
The following is taken directly from page one of the book; "The Horse and Buggy Doctor [c1938] by Arthur E. Hertzler. Of and by itself, it has nothing to do with Medical Cannabis, but does an extremely good job of describing the times in which these medical kit bags were used in.
"PROTECT US, 0 GOD, FROM DIPHTHERIA!" THESE RINGING WORDS uttered by my father at morning prayers were my first introduction to the tragedy of diseases. The atmosphere in our home that morning was tense. Father and mother ate no breakfast, and we children, not knowing why, left the large platter of fried mush, which usually quickly disappeared, practically untouched. Soon father left home dressed in his Sunday clothes. Mother, pale and silent, continued to walk the floor, wringing her hands and going to the window now and then to look down the road. I followed and looked up and down the road too, but saw nothing. Some hours later a long line of teams came slowly down that road. Driving the lead team, a strange one, was my father, and beside him sat a man I did not know. In the bed of the farm wagon were three oblong boxes. Following were spring wagons, farm wagons, and a large number of men on horseback. Questions directed to my mother brought no answer. Father returned home after many hours and cryptically announced as he came in the door: "Five more." Mother sank into a chair and covered her face with her apron.

As days wore on I learned that the wagon had borne the coffins containing the bodies of three of my playmates. Five more followed in quick succession. . . . "
For those of you interested in the subject, of "The Good Old Days," this author highly recommends the book. [Note, it does go uphill after the first page]





WANT TO KNOW MORE:
=====================
Due to space / download time considerations, only selected materials are displayed. If you would like to obtain more information, feel free to contact the museum. All our material is available (at cost) on CD-Rom format.


---
---